David E. Barnett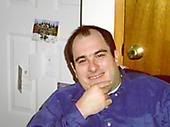 Born on August 26, 1972, David is a native Oregonian and still resides in the small city of Albany, where he grew up. Married now for almost seven years to his lovely wife Corinne, David lives a somewhat quiet life in a small duplex apartment along with their two-year-old Siamese cat, Sugar.
David began writing short stories in middle school, and has retained the itch to write ever since. In 1988 and 1989, David was invited to the Oregon Young Writer's Symposium in Salem, OR for two stories that he had written. The first, The Days of the Green and the Gray, garnered special attention due its "descriptiveness of the times" as the story revolved around a young soldier's experiences with his unit during the Vietnam War era. The second, a humorous story called The Test, dealt with a young Native American brave out to prove his manhood with very laughable results.
In 2007 David was challenged to finish one of his unfinished books by a relative who even went so far as to give him a deadline. Out of this, the book A Silent Shadow was born.
When David is not working on his fiction, he likes to write informative articles for Associated Content. One of his articles, A Sarcastic Look at the Emmy's, was in the spotlight on the site for several weeks and had much attention during that time making it one of his most successful articles. Along with this, David has published other articles on such subjects as movie and game reviews, home improvement, health issues, business reviews, and even current legal issues such as the rights of the elderly and the horrors of elderly abuse.
When David isn't writing, he can be found reading a good book, playing a video game, or watching movies with his wife into the early morning hours. He has worked in the nursing home industry and also had a stint with a large cell phone insurance company as a customer service representative.
Books
The Gatekeepers, Gatekeepers Series, Book 1 by David E. Barnett

Fantasy

In the ancient past a prophecy will reveal an unending evil that seeks to destroy all life. Humanity's only hope lies in the paws of a four-legged outcast with magical powers, a cat who has long sat at the feet of pharaohs, and who is the key to saving all life on Earth. But, will he have the strength to stand against such an evil power?

---
A Silent Shadow

Paranormal Suspense Thriller

As a psychic who is often pulled in to find clues to unsolved cases, Jethro "Jett" Montgomery knows the feeling and the sound of true evil. Living in a world of perpetual darkness, he has only his touch to guide him in finding answers. When the evil reaches out and touches his life again, Jett knows it is only his gift that will stop a killer who is willing to do anything to garner his attention including killing a loved one. It is not long before Jett finds himself in a twisted game that involves lies, deceit, and a great many secrets. In order to stop another series of tragic events that could lead to not only the deaths of other loved ones, but also the deaths of thousands of people, Jett must race to unravel the clues to the killer's manifest destiny and prevent one of the worst acts of carnage that the world has seen since the 9/11 tragedy.