Patricia Richardson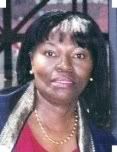 My desire to write began at a young age; my mind was always filled with great stories. However, my dreams, and aspirations were put on the back burner and even at times forgotten after I became married with children. Later the divorce came, which meant I had to become both mother and father to my children. I worked overtime and weekends just to support my family. The struggle to survive and give my children a healthy, loving home lasted until they were grown. Late author, Gracie Cornish, Ph.D. inspired me to follow my destiny. I met her at a place of employment,just sit down and start writing," she told me and I did just that. I wrote every chance I got; at work, on the subway, and in my spare time at home. This all started in the latter part of 1998. That very same year God impressed upon my heart to relocate from New York to Maryland. I was obedient and moved.
The move meant that once again I had to put my writing on hold to become familiar with my new environment and learn to cope with the conditions of a highly stressful job. Most evenings when I arrived home the only thing I wanted to do was turn the ringer off the telephone and sleep. I seldom picked up my manuscript, which was kept under my bed just waiting for me not to be too tired and stressed to write. The time for writing again did not come until late in 2001 when I finally came to the realization I would always be stressed and tired from working and if I did not use the gift God gave me I would never achieve the independent financial freedom I wanted. After this epiphany I set a goal for myself; to have the manuscript completed and sent to my editor in March of 2002. Finally, in March of 2003 the book cover for my first novel, "A Place for Ida," was approved and I was published! This of course came with a price. I lost work, I cried, and I virtually had no social life. I was on a personal lockdown. I was on a mission. Most of my spare time was spent researching publishers, cover letters, and anything else I felt was pertinent to my success. Since then I established Leap of Faith Publishing and republished "A Place for Ida" and soon after published the sequel, A Time for Jonathan.
Books
Success After Darkness by Patricia Richardson

Christian Fiction

Joey loves his wife Jasmine and his twins, Tammie and Tamala, but he is also frustrated because as much as he loves his family and God, he does not have the success that he wants so badly. Will his desire for success as a published author destroy everything he holds dear, or will he trust in God to bring him that which he most desires?

---
Lost Soul by Patricia Richarson

Christian Fiction

Duane loves his family as well as God; however, he has a dark secret. Will he give in to his hidden desires, which would bring shame, and disgrace to the church and ultimately destroy the strong bond he has with his family?

---

Where Is God When Satan Is Knocking On My Door

Spiritual Suspense Thriller

Each passing day Aretha experiences a new level of stress from the evil sensations in her body. Her skin begins to itch and burn and she can feel it tightening. Worms keep wriggling over her scalp; but each time she runs to the mirror everything looks normal. But she knows nothing is normal. She is terrified. What is happening to her? She has long gotten over fear of the dead, but this is another realization of evil. "How can you fight something you can't see!" She screams. Aretha has to find help, but who, where?

Aretha has faced down evil in her life before, but never anything as vicious as this attack. She tries desperately to cling to her faith in God, to the love of her daughters, but will this be enough to save her? She feels the power of the evil spirits slowly growing, the noose tightening around her neck, and she still doesn't know who is attacking her or why. Is this how her life will end? Or will faith and love be enough to defeat the darkness and bring Aretha back into the light?

From the author of "A Place for Ida" and "A Time for Jonathan," comes this compelling thriller about a woman's struggle for her very soul. Patricia Richardson is noted for her intricate portraits of psychological distress, but in "Where Is God When Satan Is Knocking On My Door?" she raises the stakes even higher and puts the reader inside the mind and heart of a woman who is fighting for her life, her sanity, and her soul, against demonic forces. This is Patricia Richardson at her finest.

---

Deeply Hidden Desires

Contemporary Erotic Romance

Tara has a problem a very big problem. You wouldn't think so to look at her. She is gorgeous from her lean, well-formed legs to the bronze shimmer of her complexion. But what made most men stop to stare were those thick, full rose- colored lips. Yet Tara has a problem. She is madly in love with Kendrick who takes days to return her calls, who pays her less and less attention. Even the sex is becoming routine. She's just gotten her first job as a registered nurse, but her boss Dr. Conrad is incredibly sexy, and clearly interested in Tara.

And then there's Makala. Dr. Conrad's secretary is attractive, aggressive, and in love with Dr. Conrad. And, naturally, she hates Tara. And Makala is in a very good position to sabotage Tara's work.

Should Tara try to work it out with Kendrick? And surely it's best not to get on Makala's bad side. But Dr. Conrad's skin is as black as a starless night and as smooth as a baby's behind. And the smoldering glances he sends Tara's way, well, she just starts to melt. . .

Patricia Richardson author of Place for Ida and A Time for Jonathan is taking a whole new direction in her first foray into erotic literature. Deeply Hidden Desires will hold you spellbound as you travel with Tara through heartbreak, forbidden desires, and the ecstasy of true love. Don't miss this latest offering from one of our most exciting authors!

---

A Place For Ida

Mainstream Fiction/Coming of Age Fiction

A Place For Ida offers a fresh insight into racism and coming of age through the eyes of a child. Abandoned by her parents at a tender age, she was left to be raised by her grandmother. By the age of thirteen, Ida longed for touch and affection. Everyone was already telling her she was a heartbreaker...with the strong shapely muscular legs of a stallion. It was pathetic the way she forced herself upon men.

Billy, her first true love, would send her life into a whirlwind of emotions, causing a sea of passion that Ida hardly had the capacity to control herself. During the early 1960's when the world was changing so fast, Ida tried her best to surpass time.

---

A Time For Jonathan

Mainstream Fiction

In A Time for Jonathan, the exciting sequel to A Place for Ida, Patricia Richardson draws the reader once again into Ida's world. Her precious boy is acting more and more erratically, hitting classmates, striking her. As she struggles to help him, the demons of her childhood come back to haunt her. Could this be the curse she thought she had escaped, coming back to claim her only child?

Whether you are a fan of Ida's, or are meeting her for the first time, you will find her unforgettable. And this tale of love and madness will stay with you long after you put the book down.