Regina Paul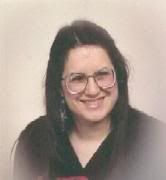 Regina Paul is a Administrative Specialist by day managing 90 (count'em 90!) Anesthesiologists, she is also a freelance writer/editor/cover artist and author. She lives in Seattle, WA with her husband of 21 years.
She has published over 800 articles online, many of which have to do with writing fiction and promoting fiction, as well as 11 books. In addition to Leap of Faith Publishing, her fiction books are also published with Eternal Press. She also has a few self-published titles.
When she's not, working, or writing (which isn't often) she loves to spend time with her husband, read, and create 3D artwork and Native American beadwork.
Regina loves to hear from readers! If you have a question about one of her books, or about getting your book published, or any of her articles, she is more than happy to answer questions, and help anyway she can. She invites you to write her at tiwatz at yahoo dot com. Also, visit her website Speculative Romance Author Regina Paul to find out when she has new releases, and where her free stories are!
Books
A Gift From Home

GLBT Romance (F/F)

Melanie has always known she was attracted to women and not men. Kicked out of the only home she's ever known when she was eighteen, Melanie has been on her own for years. Verbally abused her whole life by her mother because she is tall, big boned, tan, and god forbid, a brunette, Melanie used her mother's disappointment in her sexual orientation as an excuse to chart her own course. But when a bus ticket along with a plea to come home for Thanksgiving arrives out of the blue, Melanie is less than enthused, and suspicious. However, it is not her mother who arrives to pick her up at the bus station, but a familiar and beautiful blond.

Melanie and Loraleigh fall hard for each other, but Melanie's mother has other more sinister plans. Will they be able to stop Melanie's mother and have their fondest wishes or will their dreams of the future go up in smoke?

---

No Place to Run

Native American Romantic Suspense

On the run from an abusive ex-husband, Lin Chen drives through North Dakota and encounters a winter blizzard which forces her to stop on the Standing Rock Reservation. There she meets Kyle Little Eagle, a medicine man. While it isn't long before they are close, her ex is not far behind. Can Lin overcome her fear of men and let Kyle help her? Can love and a mutual connection to the Spirit World prevent her worst fears from being realized?